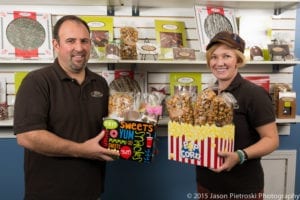 CB Stuffer chocolate with…stuff! Known for our large peanut butter cups and the only available in multiple flavors we invite you to #getstuffed with our specialty snack food confectionary products.  
We Are Family
In 2007 Bacci Chocolate Design the family business owned and operated by Erin Calvo-Bacci and Carlo Bacci launched and then the company re-branded in 2015 based on the popularity of the CB Stuffer line of products; the largest peanut butter cups on the market and available in many different flavors. CB Stuffer manufactures in the seaside community of Swampscott, MA which inspires many of their popular selling products such as their sea salt gourmet bar and their sea salt caramel peanut butter cup. Carlo and Erin's three daughters Abigail, Sarah and Sofia can often be found in the factory helping out and suggesting new flavors.
Our Memberships
We are members of the New England Retailers Confectioners Association, National Specialty Food Trade Association, Retail Association of Massachusetts and the North Shore Chamber of Commerce. Both spend a lot of time giving back to the community through mentorship programs.
We Believe and Advocate for Business
Erin serves on the Retailers Association of Massachusetts Executive Board of Directors and Legislative Committee and is a Director on the Massachusetts Retailers Workman Comp board. She also serves on the National Retail Federation Small Business Steering Committee and is a 2015 America's Retail Champion. Carlo Bacci is an elected Select Board Member with the Town of Reading and an elected Town Meeting Member.
Where to Buy
Find a retailer near you that sells CB Stuffer products.
Wholesale
Become a wholesale customer and order products online.