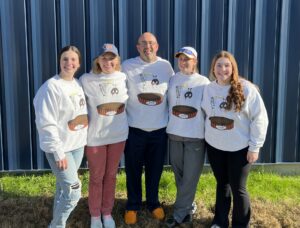 CB Stuffer chocolate with…stuff! Known for our large peanut butter cups and the only cups available in various unique flavors. We invite you to #getstuffed with our specialty snack food confectionary products.  
We Are Family
In 2003 our family took over the local brick and mortar chocolate store in Woburn MA, The Chocolate Truffle. Through the experience we began recognizing a need for better quality control and cost efficiency, so we took our knowledge and launched the specialty manufacturing division Bacci Chocolate design in 2007. Our passion for manufacturing grew and in 2015 we decided to sell off the brick-and-mortar division and bring all retail online along with the wholesale and rebranded to CB stuffer. Having our entire product under one roof gave us the opportunity to consolidate our resources and staff to promote the growth of the online retail and wholesale. We work hard to create a family-like community of staff for a conducive and enjoyable work environment.
Since 2015 we have strategically focused our manufacturing efforts on our niche products such as the largest peanut butter cups on the market, solid chocolate pizzas, gourmet bars, and many other chocolates with stuff snacks all ranging in unique and delectable flavors. In 2022 Erin Calvo-Bacci completely took over the business so Carlo could focus on his commercial business brokerage and new found love of pickle ball. As a now women owned business, we strive to provide employment opportunities for all women along with the underserved community of Lynn.
We pride ourselves on being a positive partner and influence on our local seaside community of Swampscott Massachusetts. CB Stuffer manufactures many popular products inspired by our seaside town such as our dark sea salt gourmet bar and dark sea salt caramel peanut butter cup. Our salted pretzel cups were inspired by Bacci's three daughters Abigail, Sarah and Sofia who collaborated on the promotional marketing and design of the tagline "dive into something salty sweet". They can often be found in the factory helping out and suggesting new flavors.
We Believe and Advocate for Business
Erin is a member of the National Specialty Food Trade Association, National Retail Federation, and a board member on the North Shore Chamber of Commerce. She serves on the Retailers Association of Massachusetts Executive Board of Directors and Legislative Committee, the National Retail Federation Small Business Steering Committee, and is a Director on the Massachusetts Retailers Workman's Compensation Board. Spending a lot of time giving back to the community through mentorship programs is a passion of ours. We are currently working towards the certification of becoming an accredited Women Owned Business. Being involved in these associations provides the opportunity to for us to understand first-hand the power in positive policies and the ability to be a part of the change.
Where to Buy
Need CB Stuffers quickly? You can search for a retailer near you that sells CB Stuffer products.
Wholesale
To become a wholesale partner contact us at 888-725-2877 or online at sales@cbstuffer.com We also sell through a few online wholesale platforms including Faire and Mable.