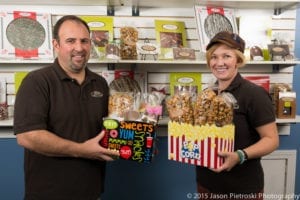 CB Stuffer chocolate with…stuff! are products included in the specialty snack food category driving sales and of course, chocolate leads the way!
We Are Family
In 2007 Bacci Chocolate Design the family business owned and operated by Erin Calvo-Bacci and Carlo Bacci launched and then the company re-branded In 2015 based on the popularity of the CB Stuffer line of products; the largest peanut butter cups on the market and available in many different flavors. CB Stuffer manufactures in the seaside community of Swampscott, MA which inspires many of their popular selling products such as their sea salt gourmet bar and their sea salt caramel peanut butter cup. Carlo and Erin's three daughters Abigail, Sarah and Sofia can often be found in the factory helping out and suggesting new flavors.
Our Memberships
We are members of the New England Retailers Confectioners Association, National Specialty Food Trade Association, Retail Association of Massachusetts and the Lynn Area Chamber of Commerce.
We Believe and Advocate for Business
Erin serves on the Retailers Association of Massachusetts Board of Directors and Legislative Committee. Erin also serves on the National Retail Federation Small Business Steering Committee.