Peanut Butter Cups
CB Stuffer peanut butter cups are for the serious peanut butter lover!
Showing all 4 results
For Wholesalers
Our CB Stuffer products are a great addition to your chocolate portfolio and will help boost sales. The Peanut Butter Cups are offered in a variety of flavors including the Rachael Ray snack of the day our marshmallow peanut butter cup; it's like a fluffanutter sandwich covered in chocolate.
See More >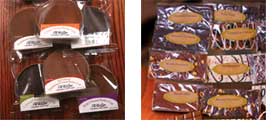 Where to Buy
Where else can you find your favorite CB Stuffer products? Enter your zip code to find a retailer near you.